What is merino wool?
Merino is a breed of sheep, mostly from Australia. It differs from other breeds in a high quality of wool consisting of thin soft fibers.
Merino wool has incredibly wonderful properties. In addition to some other artificial fibers, organic merino wool baby clothing is a sensational alternative for people, who suffer from allergic reaction, who care about environment and for natural clothes lovers. For babies, that are extremely sensitive, we can offer merino wool baby clothes with silk. This clothes is much better – it is especially lightweight and soft to skin. Smooth material are guaranteed doesn't scratch.
Though merino wool is a wonderful material for itself, there are many differences between its types in terms of quality and safety for skin and nature.
---
Organic merino wool baby clothes
Most of people know what natural products mean, but what about organic clothes – what does it mean?
To be called organic, clothes must be made of natural material, such as wool or cotton. Also, there are different requirements to organic agriculture that must be fulfilled, e.g. it's not allowed to use pesticides while cultivating of cotton and producing of wool, and it's necessary to take care of sheep, to properly keep them.
All organic merino wool yarn must have GOTS (Global Organic Textile Standard) Certificate. It requires a minimum of 95% of organic raw material. We can offer you organic merino wool baby clothes from DILLING, Danish company that works with eco materials only since 1916 year.
---
Treated and untreated merino wool
Untreated wool usually differs from treated one. But this statement can mislead you a lot, since, in fact, every type of wool is treated in one way or another. The difference is in type of treatment.
| | | |
| --- | --- | --- |
| Name | Treated (usual) merino wool | Untreated (natural) merino wool |
| Description | Most of wool underwear is made of treated material. Usually it means, that wool is a subject to SuperWash processing that removes outer layer and thin hairs of the fiber using chlorine. After that wool yarn is covered with natural (from trees) or artificial (from plastic) resin. | This wool is not a subject to an ecologically harmful process of SuperWash, describing above. Instead of it, this type of merino wool is very carefully treated without changing of natural structure of fibers due to enzyme process. |
| Pros | This type of merino wool baby clothing is easy in use, because resin layer makes it less sensible. You don't need to be careful while washing. Also it's a good guarantee that these clothes will not scratch. | Merino baby clothes from wool fibers without resin layer are wonderfully soft and it saves its natural properties. And, of course, enzyme process eco-friendly. |
| Cons | Chlorine pollutes environment. Besides, thin resin layer limits such natural merino wool properties as moisture absorbing, thermoregulation and smell protection. | Fibers without resin layer are more sensitive; therefore you need to follow care instructions. |
---
Fiber thickness, treating and knitting technologies
Organic merino wool.
This type of merino wool has the purest and most eco-friendly quality. It is treated and dyed using eco-friendly technologies. Accurate procedure removes thin hairs from the fibers, so that organic merino wool baby clothes don't scratch tender skin.
Exclusive merino wool.
It is especially high-quality merino wool from thin yarn, which makes it even softer then organic one. That's where an exclusive name comes from. The thinner yarn is, the more expensive merino wool becomes. That's why merino wool childrens clothing from exclusive merino wool are more expensive than from organic one.
Merino wool & silk mix.
It's an everyday luxury. Silk makes baby merino wool clothing the softest and the most lightweight. Silk perfectly matches merino wool because of the same natural properties of thermoregulation and moisture absorbing.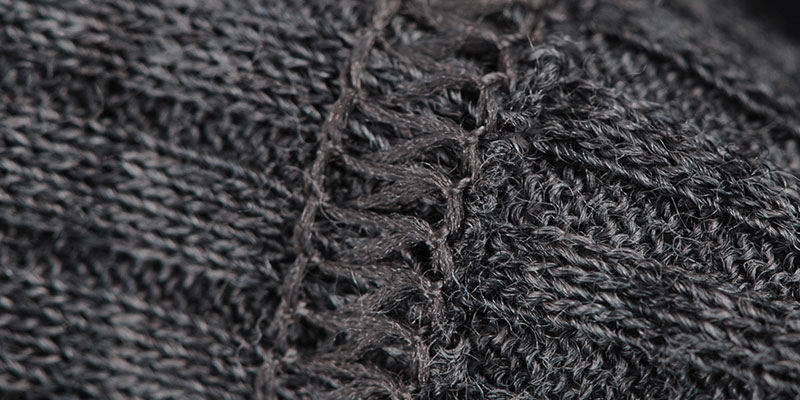 Rib knitted merino wool.
These are lightweight and airy merino wool clothes for babies that have fashionable design. Double rib knitting gives to the material an excellent structure and makes it even more elastic then other merino wool types.
Frote merino wool.
This is a soft thick material made of merino wool, but knitted by a terry way. It makes merino wool baby wear fluffy from one side and smooth from another. Frote clothes cannot be underwear, but it can be a great middle layer during cool days and summer evenings.
Fleece merino wool.
This is soft and cozy material that can warm your baby even during very cold days. This material is not intended for underwear either, but it is perfect for middle layer or outer clothing, e.g. in a stroller or on-the-go. This fabric is knitted as a single rib and then brushed using a special machine until fluffy structure. This technique makes the material elastic and flexible.
---
3 reasons to buy merino wool clothes for babies
Winter months can be very uncomfortable for the little ones, if they spend a lot of time outside, but their clothes is too warm or not warm enough. If you want to be sure that your baby is properly dressed, you should choose the merino kids clothing for underwear.
There are 3 sound reasons of it:
1. Sweet sleeping.
The right body temperature is an important prerequisite for a good sleep. Newborn merino wool underwear can help to regulate the body temperature, since it's breathable and, if it is necessary, can take moisture aside. Besides, merino wool will keep your baby in the warm, e.g. if he heave off his blanket. So, in merino wool baby pyjamas your little one can sleep quietly and charge up his batteries.
2. Great ease of movement.
Kids are often nimble, especially when they are playing outside. They run, cycle, slide, jump and climb. For all these actions children need merino wool underwear, which allows them to move easily and, at the same time, woolen underwear keeps warm and transfers moisture and sweat to the outside.
3. Merino wool helps your child be healthy.
Kids sweat, spit, jump to the pools and play with sand. But your baby needs to stay dry. Organic merino baby clothes can absorb 5 times more moisture then cotton ones. Merino wool underwear help babies to stay dry, warm and healthy. (But notice, that merino wool clothes should be put on the skin, because it cannot dry from outside, e.g. when you put it on cotton underwear.)
We can offer you Lorita merino wool clothing for babies that has high quality and fine view. And don't forget about merino wool baby blanket! Lorita is a Lithuanian company with more then 20 years of professional experience
---
4 myths about merino wool baby clothing
1. Merino wool scratches.
May be you remember that scratchy least favorite sweaters from your childhood. But since then many things in wool industry have changed, and today there are a lot of wool clothes, which doesn't scratch. You can find a wide choice of soft merino baby clothing. Merino wool is freed of hairs on fibers, which can scratch, due to SuperWash or enzyme process. If it's not enough for you, we can offer to your baby merino wool clothing with silk that is even softer.
2. Wool is hard to wash.
Many people think that merino wool is difficult to care. They afraid to damage their favorite underwear. But in fact wool is not so hard in wash. Usually, you can wash it in washing machine at 30 degrees, using wool program and wool detergent. But note that merino baby clothes from different brands needs different care, so just follow its care instructions.
3. Kids can loose their ability to regulate body temperature because of merino wool.
Some people say that after wearing merino wool baby clothes, their kids begin to get cold in other materials. It is true that wool has an insulating effect. But that has no effect on body functions. So, your baby can wear cotton and wool one after another without any hesitation.
4. Merino wool has natural color only.
It's true that during many years merino kids clothing had natural color only. But nowadays there are all colors. We can offer you neutral colors, e.g. white, ecru, grey and black, as well as pink, blue, green and purple. So, your baby can look vivid in merino wool clothes!
---
3 reasons to buy merino wool childrens clothing for summer
Most of people think about merino wool baby clothes as about clothes for wet and cold months only, when you need to keep your little one dry and warm. But merino wool is one of the best materials even for summer clothes too. It has cooling effect and saves dryness.
1. Warms while cold, cools while hot.
Most of people know that merino wool warms very well. But it's only one side. Another feature of the wool is helping in regulation of body temperature. The secret is in airy fiber structure, which creates isolating effect. It means that merino wool baby clothing saves warm during cold days and cools during hot ones. Airy fibers absorb some part of moisture released from body; the other part evaporates due to air and body temperature. And presto! Thin merino wool layer helps your baby to support comfort body temperature without sweating and freezing.
2. Merino wool transports moisture.
Merino wool has a special property to absorb moisture without being wet. Moisture stays in wool fibers and evaporates directly from there not making clothes sticky and cold. Merino wool can absorb up to 33% of its weight staying dry on the surface. It makes merino wool a wonderful material for our babies.
3. Merino wool provides high UV protection.
Due to the knitting technique, merino wool provides better UV protection then cotton, silk or polyester. The explanation of this fact is in wool structure, which absorbs UV lights, not just lets through the material. But at the same time, of course, merino baby clothes should not be wore as the only protection from the sun. In summer thin merino wool T-shirt could be a great addition to sunscreen and shadow.
So, don't take far away merino wool baby clothes – it is useful all the year round!