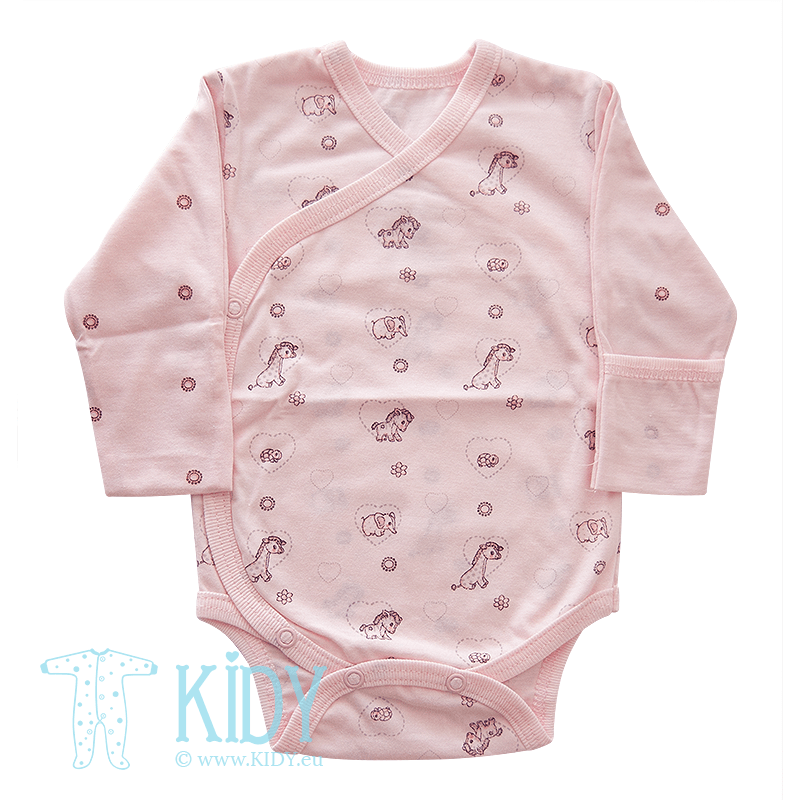 Pink bodysuit MINI ZOO with mitts (Lorita) Item code:

00341
Choose your size/age:
---
---
Long-sleeved body suit MINI ZOO with mittens for a baby under 1 year of lovely delicate pink color and with flowers, hearts, little elephants and ponies' pattern is a wonderful choice for leaving maternity hospital or as a first present for a new baby girl. There is a pink border at neck and legs. Body suit fits closely that is why it is easy to combine it with other clothes. Children's body suit at low price can be bought at our online shop. This garment is made by a well-known Lithuanian brand Lorita, which is known for the quality of its production. The clothes are sewn from cotton of high quality and a baby will be comfortable during the play time and when sleeping. Cotton penetrates the air, easily goes through washing not losing the quality. This body suit can be easily put on and off thanks to the overlapping from neck to legs. The diaper can be easily changed using the snaps not taking of the whole suit.
---
---
---
Other goods from the collection MINI ZOO:
---
Reviews about the good Pink bodysuit MINI ZOO with mitts
---